Is your iPhone 13 voicemail not working properly? Some iPhone 13 users have reported that they could not play their voicemails. Some others even could not retrieve voicemails on their iPhone. Sometimes, the voicemail transcripts are shown but then they suddenly disappear. If these happens, don't panic as the article provides you a troubleshooting guide to fix the issue.
Why is iPhone 13 Voicemail Not Working?
You might be wondering why the voicemails in your iPhone 13 is not working. There can be some possible reasons causing the problem. Some people may think that there is a problem with their wireless carrier. That is why they immediately call T-Mobile, Verizon, AT&T, or another carrier they use for support.
However, most of the time, the problem is caused by the software on the iPhone itself. Although the causes may vary, there are two main reasons for the voicemail issues. First, the iPhone fails to download voicemails from your wireless carrier. Second, the Phone App on the iPhone is not properly working.
What to do about it?
Whatever the reason is, the most important thing is to fix the problem. The steps below explain how you can fix your voicemails so you will not miss any important messages.
Check that voicemail is configured on your iPhone
Some iPhone users just do not realize that they have not set up voicemails on their device. So, make sure that it is already set up. Check the settings from the Phone app on your iPhone. Tap on the Voicemail to make sure that is already configured.
Try to call the voicemail directly to check whether it is working correctly or not. From the Phone app, tap on Keypad. Then, press on 1 and hold to call voicemail. Make sure you are able to listen to the messages and configure the setting.
Restart the iPhone
Shutting down an iPhone is actually not really necessary, but resetting or restarting the device when there's a problem sometimes work. A basic restart is generally useful to refresh the iPhone's memory, clear its cache, and maintain is performance.
Similar to restarting the device, you can first try to force close the Phone app and reopen it. This can give the app a fresh start so any software will work again. Quit from the phone app by swiping up the bottom to the center of the screen and hold until the app switcher opens. Then, swipe up the screen to close the app.
Refresh the Internet Connection
Whether you are using mobile data or Wi-Fi, you can always refresh the internet connection to bring everything back to normal. Try turning off cellular data and turn it on again after several minutes. Do the same for Wi-Fi network.
Alternatively, go to settings to turn off Airplane mode. This mode turns off all wireless antennas, from mobile data to Wi-Fi, and even Bluetooth. In a second, turn it on again.
Check for Updates
Apple or wireless carrier usually release updates regularly for better and more efficient wireless connection between the device and the carrier network. You can check for updates from Settings > General > About. A pop-up will appear in a second when any update is available.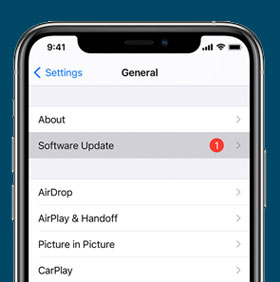 It is also important to check for iOS update. The latest iOS contains bug fixes and security patches that help solve problems on iPhone 13 including the voicemail issues. To download and install iOS update, go to Settings from your Home Screen. Then tap on General > Software Update. Check whether there is a new iOS update offered.
Call Your Carrier for Support
Sometimes, voicemail problem can happen because of the service provided by your network carrier. So, if your voicemail is still not working, speak to our carrier. The technician will investigate and resolve the issue with further technical support to configure the voicemail on your iPhone 13 if necessary.
In most cases, the steps above can help you fix the problem so you can listen to your voicemail again. However, if none of them work and you still find your iPhone 13 voicemail no working at this point, it is time to call Apple Support.